Maund, Benjamin.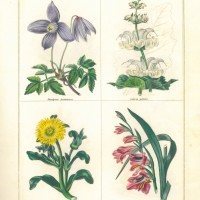 product description
The Botanic Garden. Consisting of Highly Finished Representations of Hardy Ornamental Flower Plants, cultivated in Great Britain; with their Names, Classes, Orders, History, Qualities, Culture, and Physiological Observations.
Band 8. 22 x 18 cm. Gestochener Titel, Titelblatt, 24 kolorierte Kupfer-Tafeln, 96 Blatt Text. HLdr. der Zeit.
London, Simpkin and Marshall, and Co., um 1840.
Nissen BBI, 2222. - Erste Ausgabe. - Die schönen Tafeln jeweils mit vier Darstellungen. - Einband gering berieben, der gestochene Titel stockfleckig, die Tafeln von alter Hand nummeriert, sonst aber sauber und gut erhalten.